Vape Emporium has been featured in a number of media outlets since its first shop's grand opening.
Please check out the following pieces of press coverage (in chronological order). Media enquiries: Please email info@vapeemporium.com.
Vape Emporium seek investment for rapid expansion - ThisIsMoney.co.uk - February 2017
Vape Emporium has become the first vaping business to seek investment on Seedrs, Europe's largest crowdfunding platform. Click Here to read the full article published on thisismoney.co.uk
---
From Moscow with Love - VE-Team Member Michael Young gave a presentation at the Vape Expo in Moscow in December 2016. Watch an interview with him below on his experience on visiting Russia and the growing Vape community over there...
---
CCTV America - New opportunities emerge in Britain's abandoned high streets - 29th September 2016
CCTV (China Central Television) America interviewed Vape Emporium Co-owner, Andy Logan from our Hampstead store. 
---
BBC World Service - Vape Culture - 29th September 2016
BBC's Tim Smith visited Vape Emporium Richmond to discuss the rise in vaping subculture as more of the British public turn to e-cigarettes as a healthier alternative.
---
Bloomberg - How Tattoos and E-Cigs are Propping Up U.K.'s Shopping Streets - 9th September 2016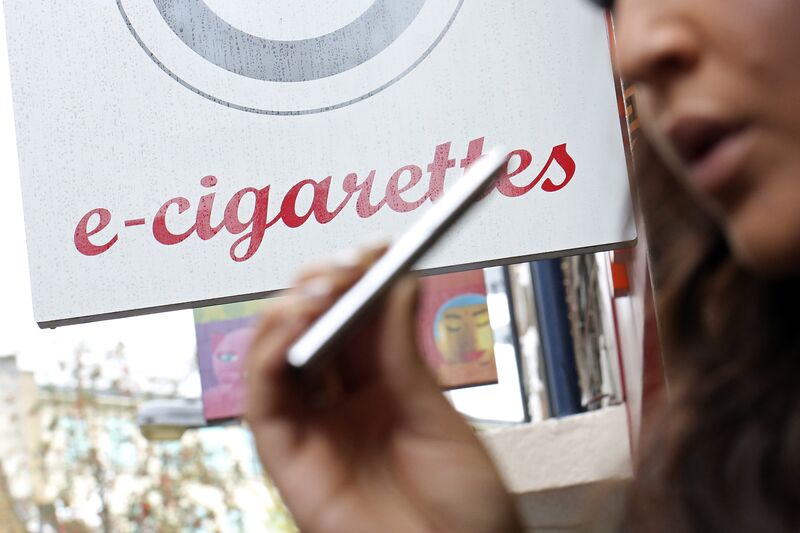 Click here to read the full article on Bloomberg.com
Bloomberg news article on 'the rise of Vape shops in the British High Street', with reference to Vape Emporium and quotes from Andy Logan, one of VE's founders.
---
Startups 100 – Vape Emporium ranked No.30 – 16 May 2016
Click here to see read our entry and see full list of winners.
For the second year running Vape Emporium has made the prestigious Startups 100 (the only comprehensive index of the UK's hottest start-ups), for 2016 Vape Emporium placed at a fantastic no.30 – that's up 42 places on 2015 (no.72)!
---
The Guardian – 'Can e-cigarette makers stub out addiction concerns?' – 29th April 2016
Click here to view the whole article.
Following the release of the Royal College of Physicians report 'Nicotine without smoke: tobacco harm reduction', The Guardian spoke to Vape Emporium's co-founder Andy Logan about the state of vaping culture and took a look towards the future (with the TDP looming).
---
Sky News live streams on Facebook from Vape Emporium Richmond – 28th April 2016
A new report - 'Nicotine without smoke: tobacco harm reduction' - from the Royal College of Physicians has concluded that e-cigarettes are beneficial to public health and smokers should be encouraged to make the switch. The report was covered extensively across the mainstream media in the UK, including by Sky News' Joe Tidy who interviewed VE Richmond's Jack and tried vaping for the first time while live streaming on Facebook.
---
BBC News – 19th August 2015
On Wednesday 19th August 2015 vaping and electronic cigarettes were front page news as the PHE (Public Health England) issued a report to say that vaping is 95% less harmful than smoking. The news raised the issue that vaping should be included on the NHS as a pharmaceutical aid to help smokers quit.
The BBC reported from Vape Emporium shop in Hampstead on the Tuesday 18th August, when the PHE report was released. On the Wednesday, BBC returned to Hampstead and interviewed Vape Emporium co-owner, Andy Logan which was aired on BBC Radio 2, BBC 5 Live, and BBC London 94.9.
BBC health editor, Hugh Pym reported from Vape Emporium on the Wednesday which was featured on BBC Breakfast, the lunchtime, 6 O'Clock and 10 O'Clock news.
If you have visited our Hampstead vaoe shop, you will probably recognise our staff members and even some regular customers in the BBC footage!
---
In Your Prime by India Knight – Released May 2015
Click here to read an extract.
Celebrated columnist and novelist India Knight is a vaping evangelist and one of Vape Emporium's original advocates. India went from a 30-a-day smoking habit to nothing over night thanks to vaping, when she picked up her first e-cig in our Hampstead boutique vape store.
In her book 'In Your Prime' India talks about her journey from heavy smoker to vaper as she navigates mid-life's little nuisances.
---
The Telegraph – 'Vaping: it's like smoking, only more manly' – 23rd April 2015 
Click here to view the whole article. 
An article appeared on the Telegraph website on the topic of vaping and its rise in popularity. Co-owner of Vape Emporium, Amar El-Zayat was asked to supply a quote on his experiences in the popularity of vaping since opening North London's first vape shop.
---
Esquire – 'Will Self And His Addiction To Vaping' – 13th April 2015
Click here to view the whole article.
Will Self, the political commentator, author and television personality wrote a feature on his 'addiction' to vaping in lifestyle magazine Esquire. The shop in question in this feature is indeed Vape Emporium, Hampstead.
---
Huffington Post – 'Smoking Is Cool But It Will Kill You' – 30th March 2015
Click here to view the full article. 
Journalist, Nicole Ettinger opens up about her decision to stop smoking and how visiting Vape Emporium allowed her to adjust to the new world of vaping…
---
Hampstead Village Voice – 'Reassuringly Nicotine-Stained' – Early 2015
Local Hampstead rag, the Hampstead Village Voice, used its complimentary satire to review Vape Emporium in one of its earlier editions this year.
---
The Wall Street Journal – 'E-Cigarette Makers Face Rise of Fakes' – 25th February 2015
Click here to view the full article.
Vape Emporium was quoted in this article about the rise of fakes, clones and counterfeiting in the e-cigarette industry. We expressed the dangers of using these products and stress that customers come to reliable vendors like the Vape Emporium where we only stock products from trusted manufacturers.
---
The Guardian – 'Health warning: Now e-cigarettes can give you malware' – 21st November 2014
Click here to view the full article.
Our Hampstead vape shop manager, Dave Goss is quoted in this article featured on The Guardian about the possibilities of e-cigarettes causing malware viruses when charged on computers.
---
Ham & High – 4th April 2014
Click here to view the full article.
Local Hampstead newspaper the Ham & High interviewed the owners of Vape Emporium a month after the shop opening in 2014.
---